›
›
ADZBank - Bloggers Exchange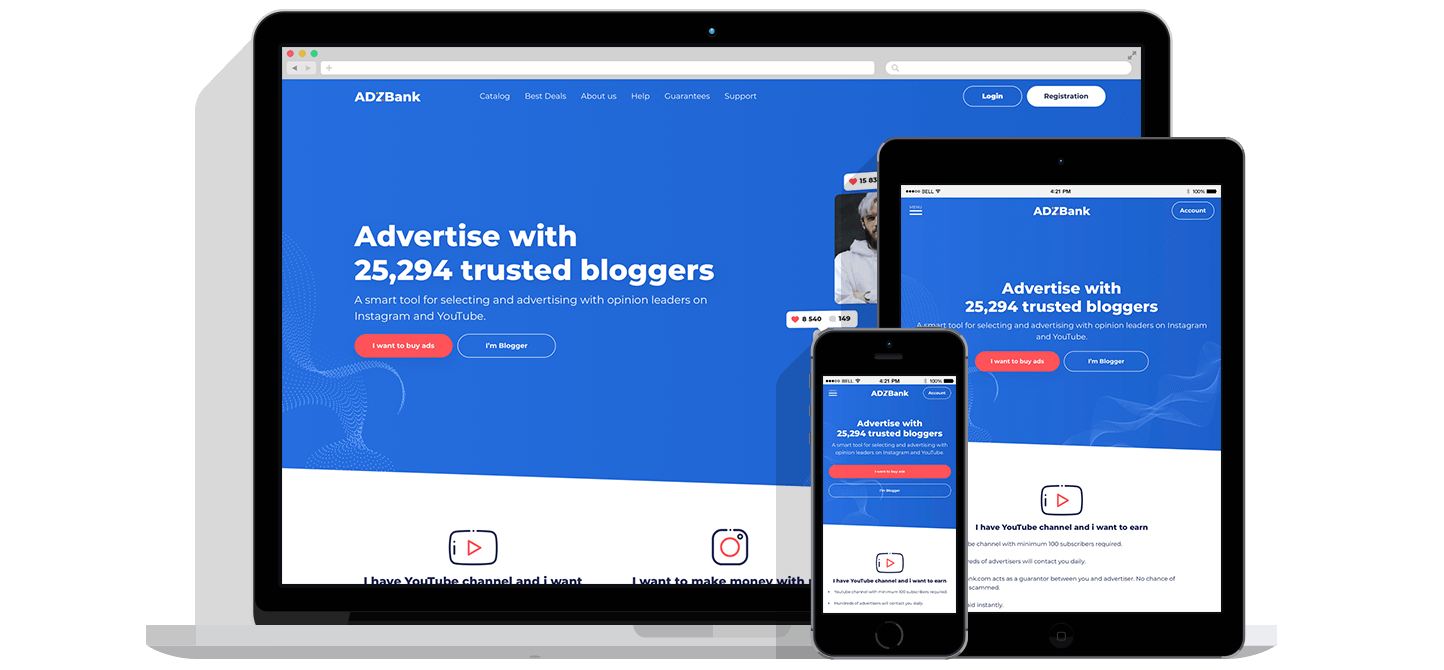 Home Page
The main page contains description of the project and a presentation video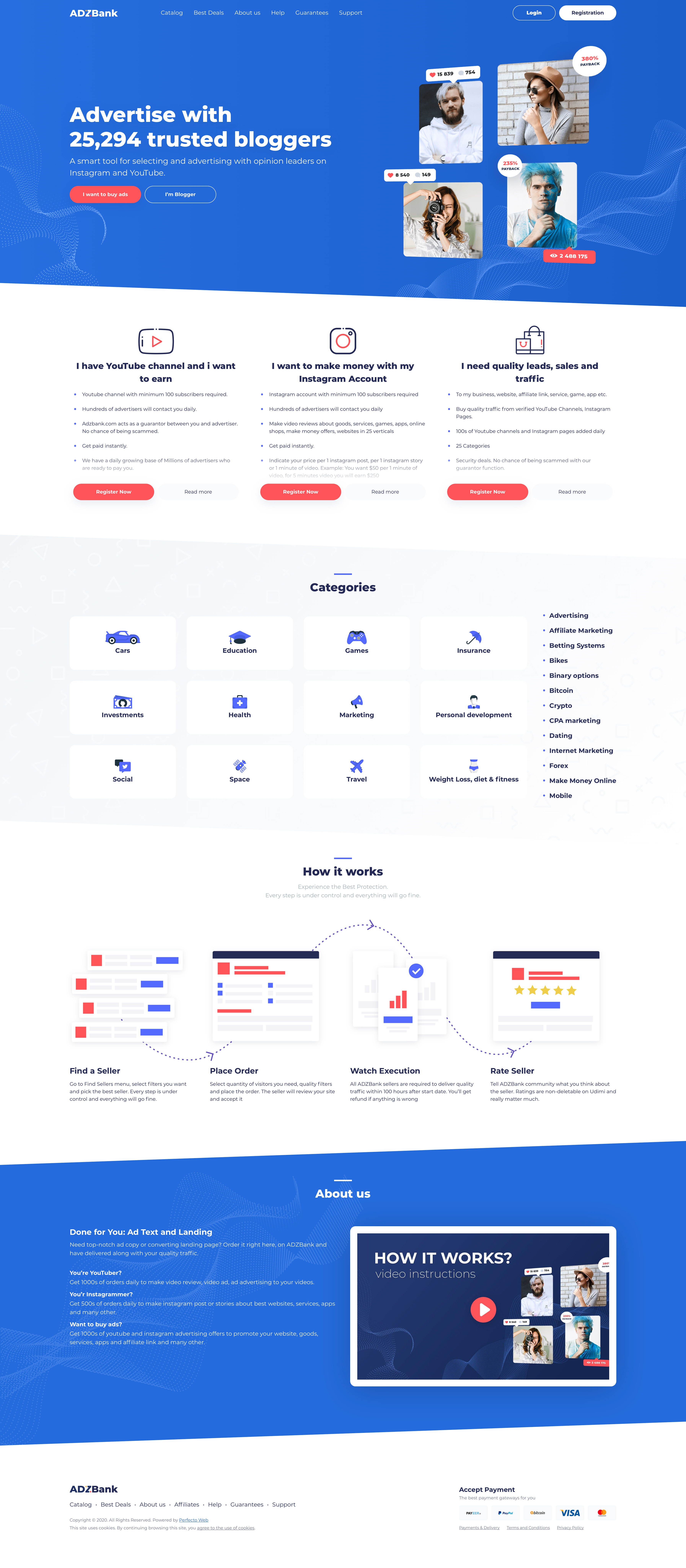 Bloggers Catalog
The Bloggers Catalog contains a filterable list of all active bloggers with promotional offers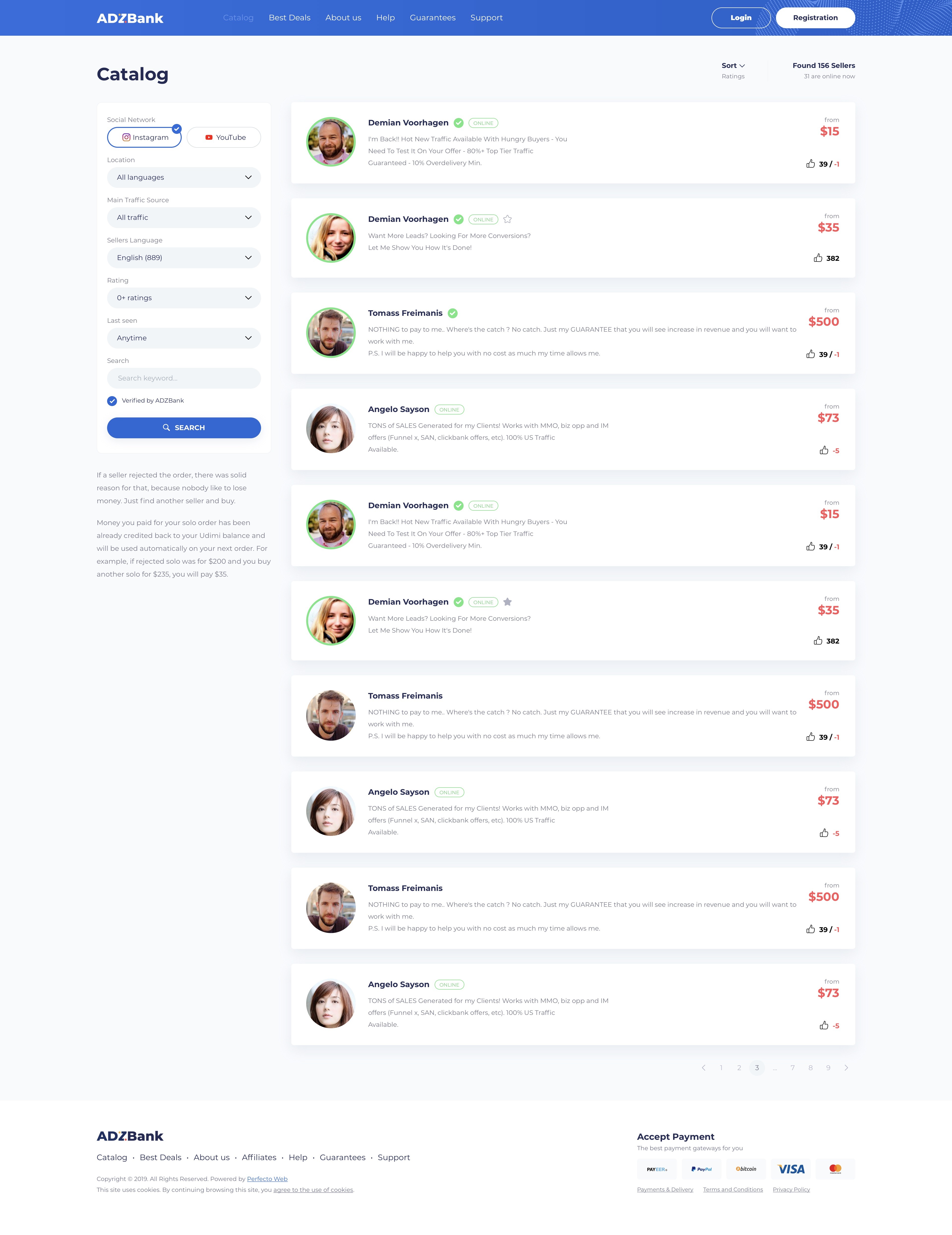 List of Campaigns
Blogger's page with promotional offers and ordering right from the page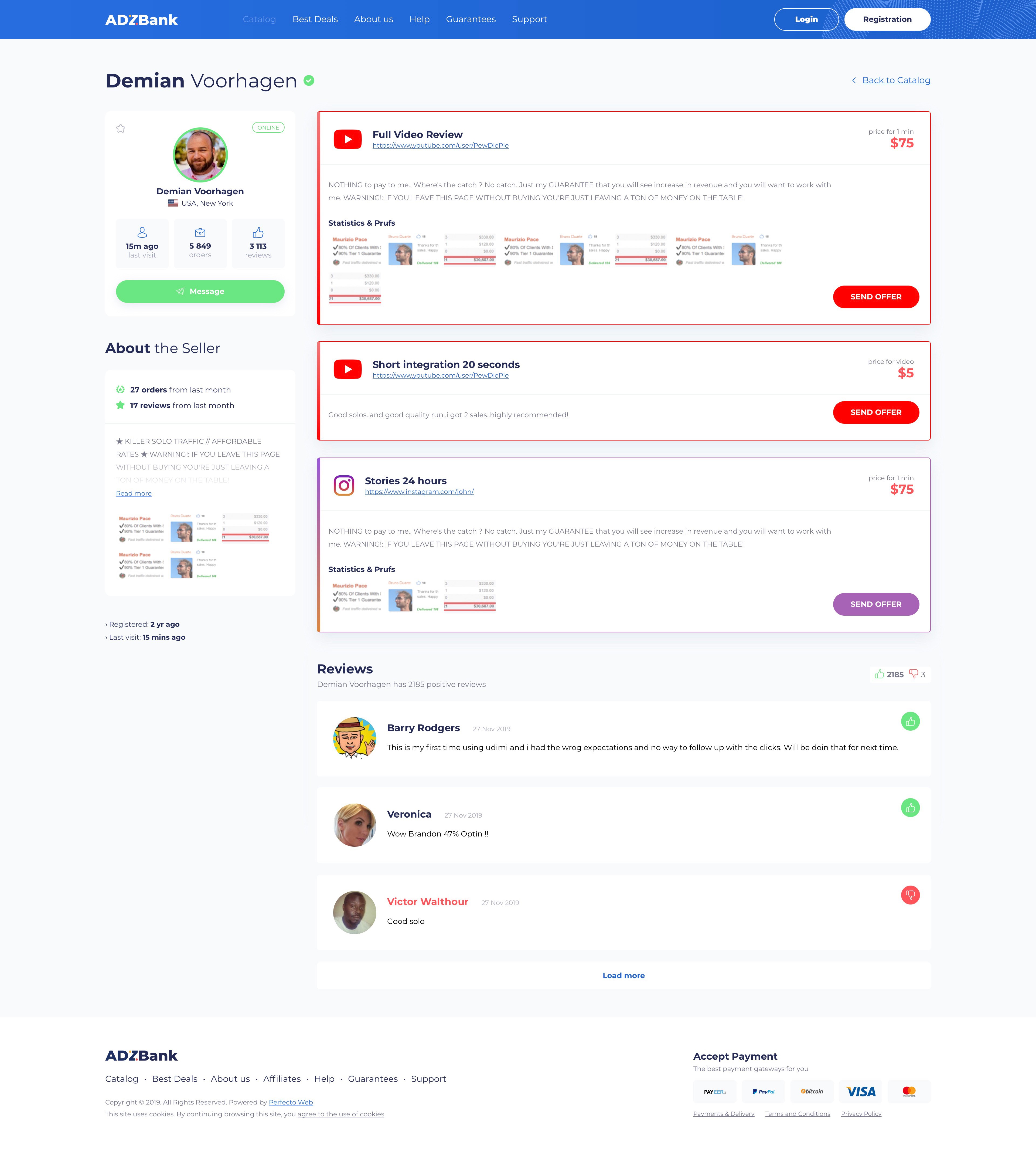 Account basics
User's page with detailed statistics, tariff plans and other useful information for bloggers and customers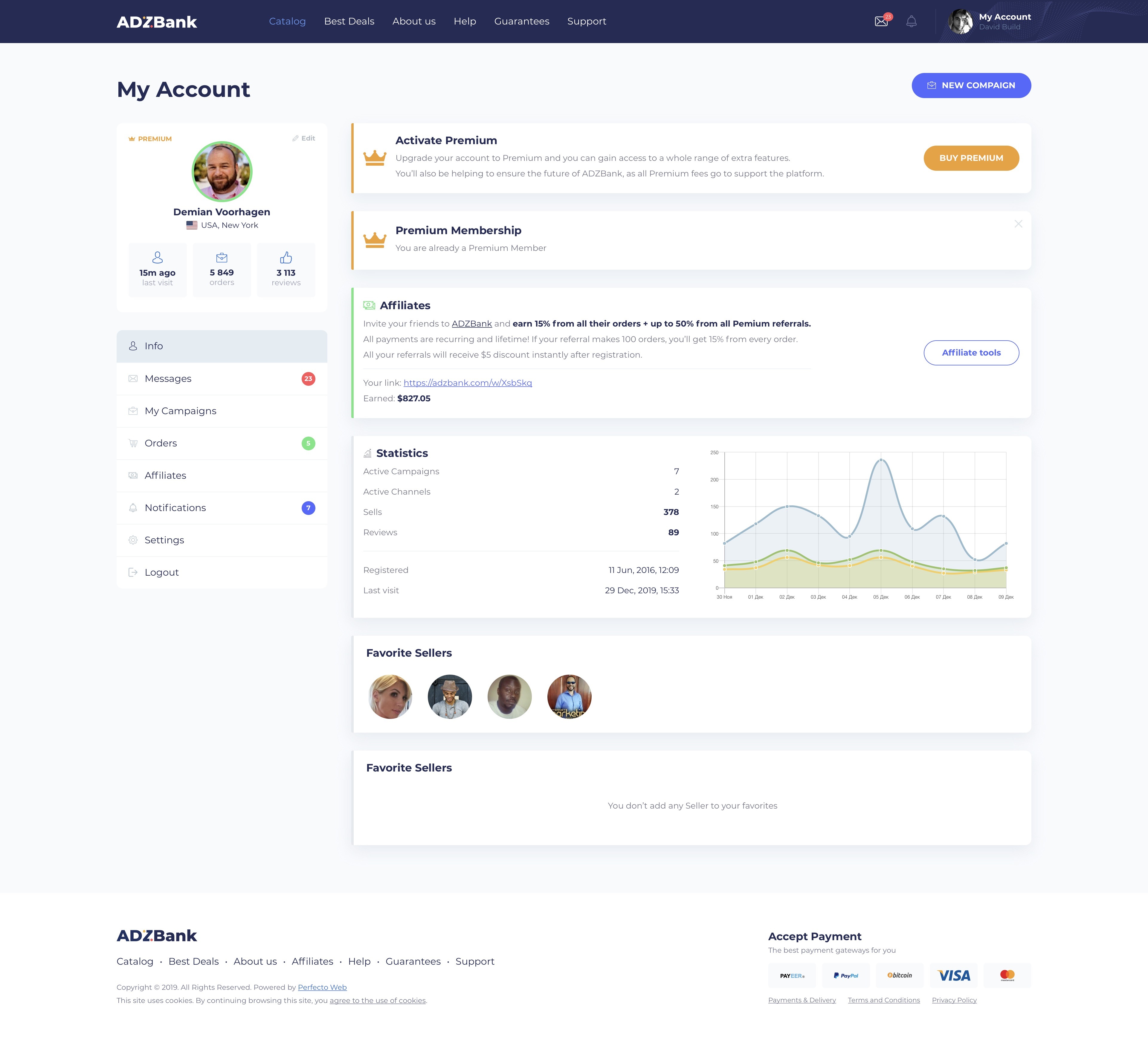 Create Campaign
A page with promotional offers from the bloggers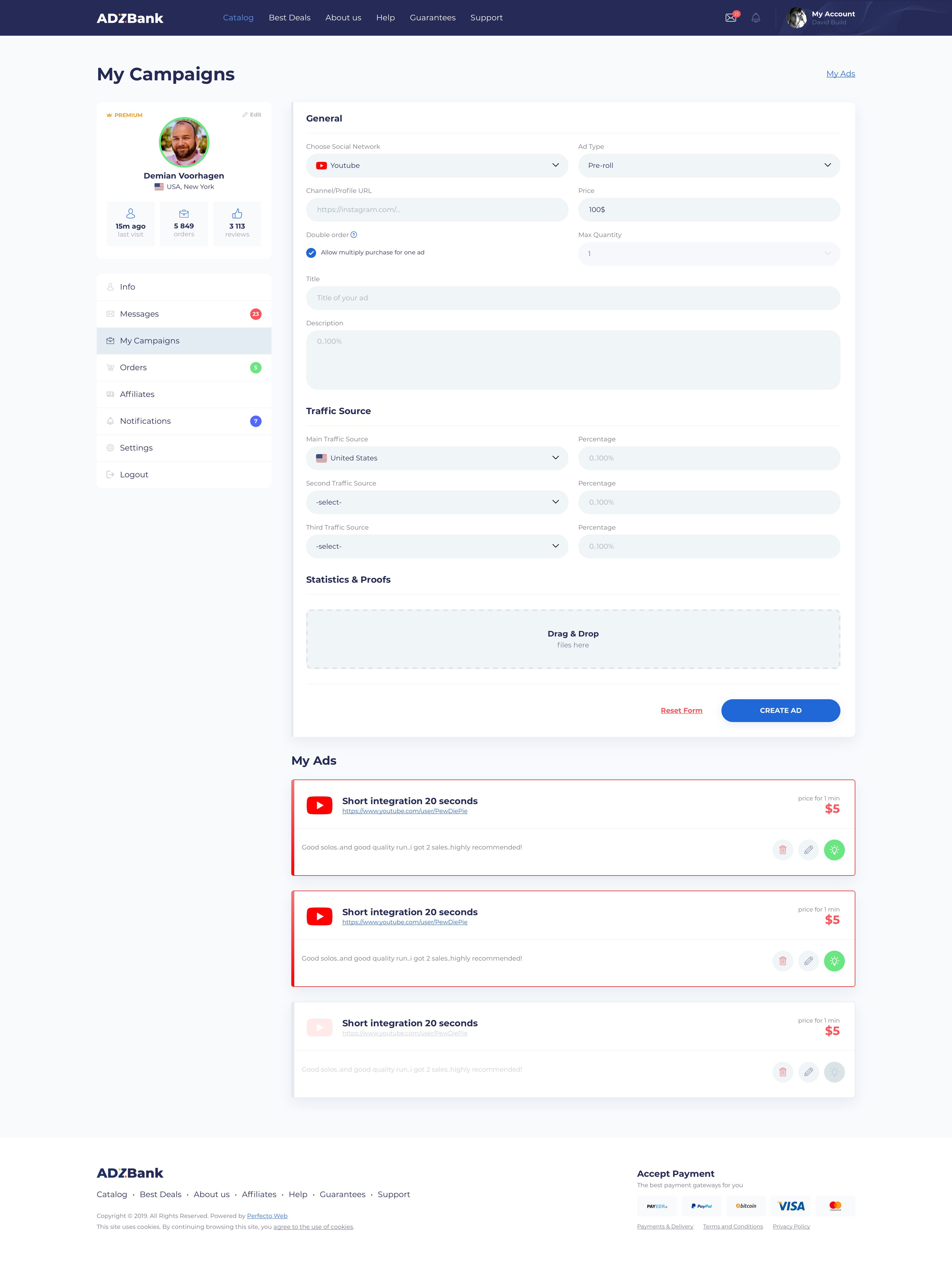 ADZBank - Bloggers Exchange
Development of a turnkey website for ADZBank, a bloggers bank, which helps advertisers find bloggers to advertise their products. The platform acts as a transaction guarantor between the sides. The project was developed with the further ramification and scaling capability. Up-to-date and user-friendly interface allows to find the right platform for your product promotion or create an automated advertising campaign in a couple of clicks.
With the right approach and marketing support from our side, there is a great potential for becoming one of the leaders in the field, also taking into consideration the fact that there are not so many projects of this type. Our team: designer/HTML coder, programmer, programmer-tester.
Tasks
Create a platform where YouTubers and Instagrammers can safely advertise and feel secured from dishonest customers.
Help businesses or service providers find bloggers to promote their products or services.
Create an intuitive and friendly UI for the target audience aged 18-40.
Act as a transaction guarantor between the sides.
Allow the bloggers place ads in a couple of clicks.
Solutions
Analyze the competitors to find the best UI.
Create a concise and friendly UI, neither too cartoonish nor too strict.
Design in light, clear colors to suit the target audience.
Each of the transaction sides pays a deposit of 50 USD as "club member" fee.
Use Node.js, PHP7, MySQL 8 technologies for maximum load endurance and minimal server maintenance expenses.
Functions
Account registration: Blogger, Advertiser
Safe transaction
Creation of advertising campaigns by bloggers
Convenient search for advertising platforms
Contract signing by the sides
Blogger account
Advertiser account
Ticket system
Partner program
Payments via PayPal, Bitcoin, ADVCash
Live chatrooms
Information
Customer: Mark
Creation date: 01 Jul 2020
Views: 2534
Release year: 2020
Website Engine: Individual Development
Technologies: PHP7, MySQL8, HTML5, CSS3, Ajax, jQuery, Node.js